Eat Your Books and ckbk have recently partnered. Premium members of both services can add the ckbk collection of 700+ cookbooks to their Bookshelf. The indexed recipes from these books will be included in your recipe searches and accessible with just one click.
Here's how to add the ckbk collection to your EYB Bookshelf with just a few clicks.:
Select Bookmarks from the My Bookshelf drop down menu.
Select the Books tab.
Click on "Add all to Bookshelf".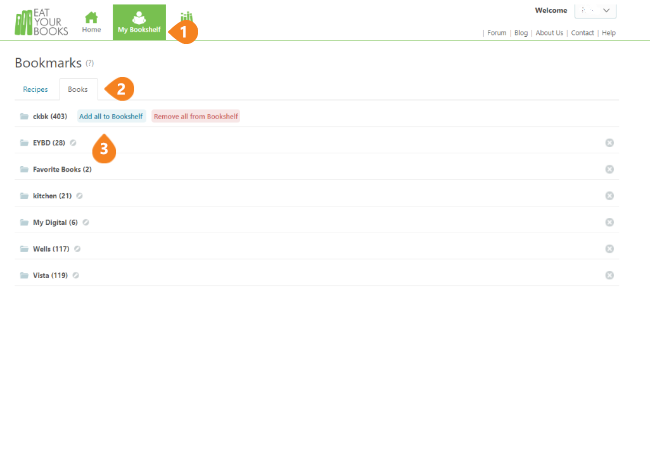 All 700+ books from the ckbk library will be added to your Bookshelf. You can remove any individual ckbk book if you wish. Or if you later decide to remove the ckbk books, you can delete them all from your Bookshelf from the same Bookmarks page. Currently that will remove all ckbk books, even though you may own some of those in print. We are soon adding an enhancement that will only remove ckbk books you did not already have so we recommend waiting for that change before deleting the ckbk books.
Every book available on ckbk and every recipe accessible from EYB will be denoted with the ckbk logo. Click on any logo to access the book or recipe.