The Import Books feature (only available to Premium members) is useful for members who have their books digitally cataloged or have a barcode scanner (read our other help article on Using a barcode scanner). You can either paste or scan in lists of ISBNs to the Import box - your books will be automatically uploaded to your Bookshelf. If we do not have one of your ISBNs, you will be notified. We will endeavor to add them to the EYB library and they will automatically be added to your Bookshelf.
Select Import Books
Paste your list of ISBNs into the Import Box
Click Add Books
Click these links for more information on importing ISBNs from LibraryThing, GoodReads or using a barcode scanner.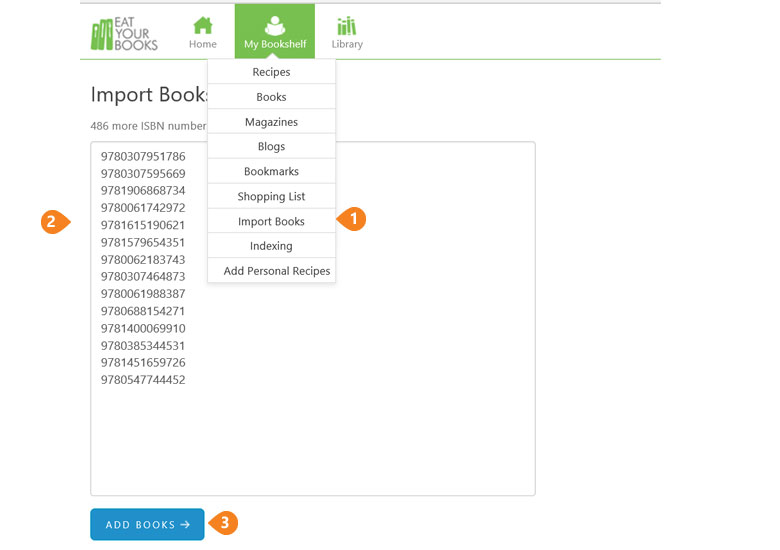 More information about adding books to the EYB Library
We have more than 160,000 cookbooks listed in the Library – but there are still a lot more out there. If you own a book that you cannot find in a search of the Library and you want EYB to add a book, use Import Books as described above. If the book is in the Library (you may not have seen if it is a linked book "hidden" behind the Indexed edition) then it will be immediately added to your Bookshelf. If we don't have the book in the Library then we will try to retrieve the book data from Amazon and add it to the Library. The book will also be added to your Bookshelf once we import the book details. This should happen within a few hours of your request.

Sometimes Amazon does not list books so we cannot get the data and those requests go into a list of books we will add one day when we have the resources to add the data manually. Books without ISBNs that cannot be entered to Import Books will not be added right now though we hope one day to have a feature that will allow members to add their own cookbook data.

We will add data manually for a book that cannot be imported if you want to member index the book. Please contact us at info@eatyourbooks.com and we will tell you what data we require from you.
​