There are various options on using a barcode scanner:
The simplest option (though most expensive) is a USB barcode scanner, which plugs into your computer and imports directly into EYB. There are numerous devices available on Amazon USA, Amazon UK and Amazon Canada.
If you have an iPhone you can get a free barcode scanner app, Barcode-x, that scans the ISBNs into a text file then you copy and paste into EYB. When you install the app, make the exported file format TXT, the barcode-quantity separator to space and all the other settings to off.
If you have an Android phone, there is an app that will import directly to EYB, Bluetooth Barcode Scanner for $1.49 (recommended by an EYB member). There will be others available on the app store.
To add the scanned barcodes:
Go to the EYB Import Books screen. This feature is only available to Premium members.
If you are using a USB scanner, place your cursor in the Import box - start scanning (up to 500 books at a time). If you are importing the ISBNs, place your cursor in the Import box and paste in the list (up to 500 books at a time). *
Click on Add Books when you've finished.
If the book is in the Library it will import immediately. If it is not in the Library, we will try to get the data from Amazon and import it for you (within 24 hours). If we cannot find the data, then we cannot add the book at this time.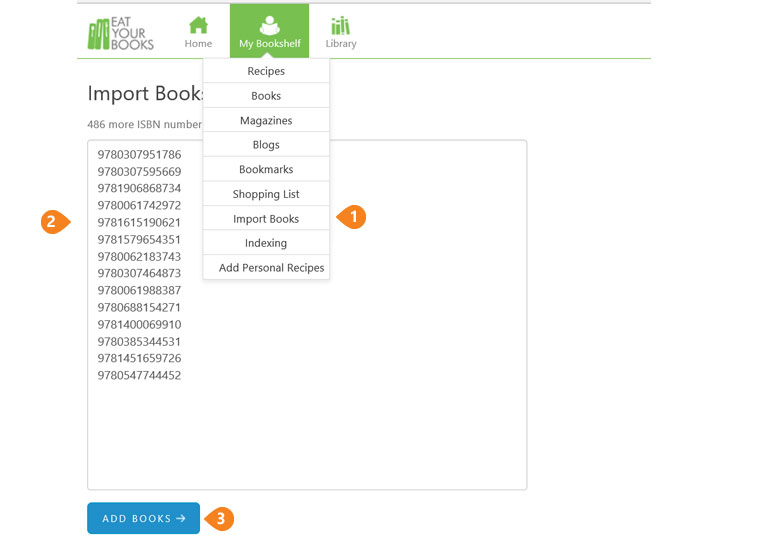 * If one of the ISBNs is corrupted, the entire import will not process. So it is safer to import in smaller quantities. If the import is rejected, try importing just the first half - if it imports OK then you know the corrupt number is in the second half. With the remaining second half (or the first half if it was rejected) import just half of that half again, and so on, until you identify the corrupt ISBN.