Members can add their own photos they have taken of recipes and import them to EYB. They must have taken the photos themselves and the photos should not include other images such as the cookbook cover or the pages of the cookbook. Only JPG/JPEG and PNG images can be uploaded. For the legal rules about importing photos please read the Uploading photos section near the bottom of our Terms & Conditions.

All images are checked by EYB before being approved. You as the submitter will be able to see the image immediately but no other member can see it until it is approved.
Select the recipe you want to add a photo to by clicking on the recipe title.
Click the "Upload image" button in the right-hand column
Follow the simple instructions - choose a file to upload or drag it into the box. You can use an image from your computer or snap a photo with your smartphone and upload it in seconds.
The image will appear on your Bookshelf immediately (just refresh the page). If there is an official image for the recipe it will appear first, followed by your own photos, then photos of other Members with the most recently added photos first.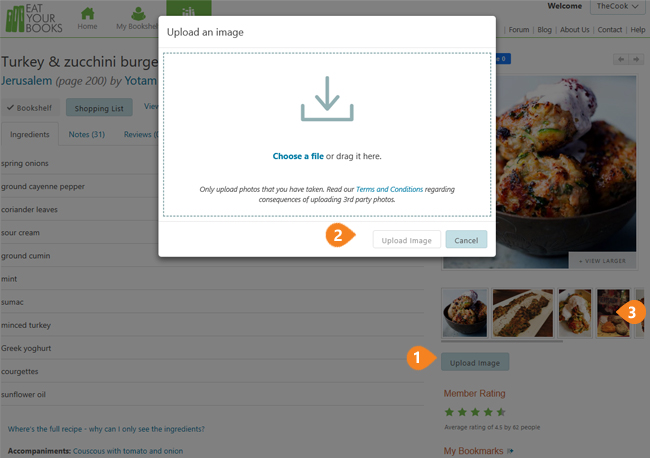 You'll find further instruction on the EYB blog on tips for cell phone food photography, taking the best food photos and how to edit cell phone photos.