You can now create a list of books you would love to own using the Wishlist feature. You can add as many books as you like. Once you own the book you simply move it from your Wishlist to your Bookshelf. None of the recipes from books in your Wishlist will appear in your searches. You can also add magazines to your Wishlist.
Next to each book's indexing status you will see a red heart outline. This will only appear when you are in the EYB Library NOT your Bookshelf.
Click on this if you want to add the book to your Wishlist. The heart turns to a solid red - the book is now on your Wishlist.
To remove an item from your Wishlist click on the solid red heart and it changes back to an outline.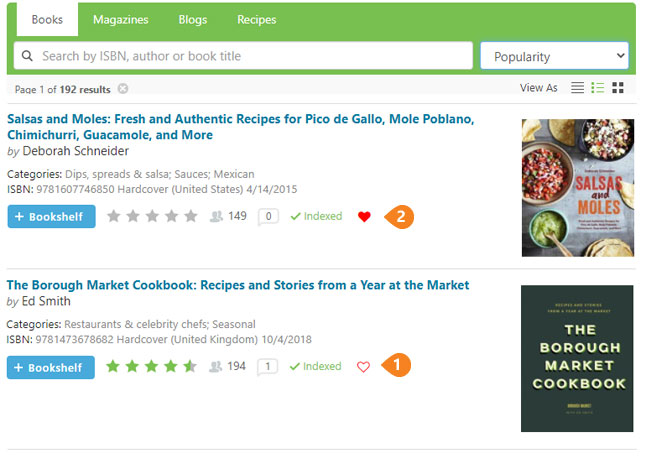 To view and use your Wishlist:
Select Wishlist from the filters on the right (or under the Filter link on a phone) in the EYB Library (not your Bookshelf).
Sort your Wishlist using Sort by.
Use filters to find – types of books, courses, ethnicity, etc.
Print your list using the Print command on the minimized view.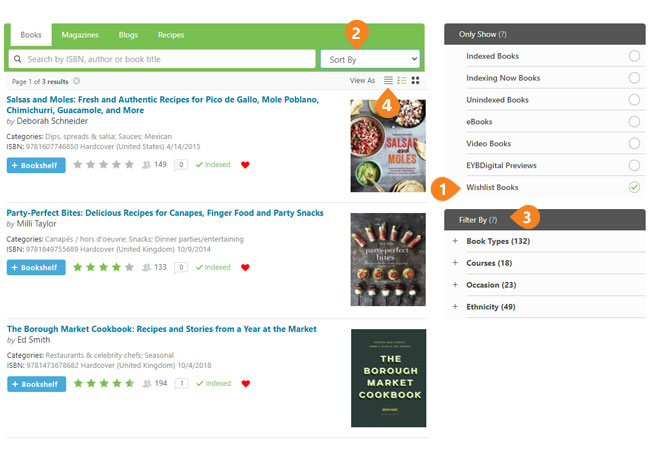 You can also share your wishlist with friends and family. Click the URL at the top after you have selected the Wishlist filter in Library Books. Then email or text to whoever you want. They do not have to be an EYB member to open the link.