Step-by-Step Instructions

Bookmarks can be used to help you organize your cookbooks, magazines and recipes, including online and personal clippings.
Simply click on the Bookmark tag or the Chef Hat next to the recipe title
Enter the name of a Bookmark then Add New and Save or select a Bookmark you've already set up and Save
Books and Recipes display their Bookmarks. The Chef Hat will change color if you select "I want to cook this" (orange) or "I've cooked this" (green)
You can search within a Bookmarked group of Recipes or a Bookmarked group of Books
Try adding some Bookmarks to recipes on My Bookshelf.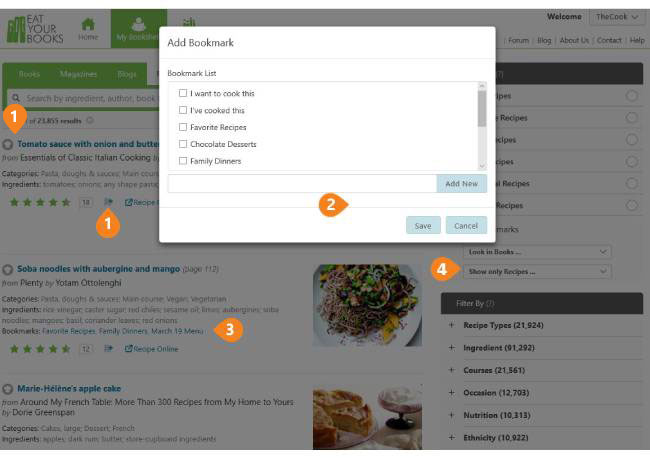 These are just some of the ways you can use Bookmarks:
tag books with different locations - useful if you keep your books in different places
keep track of favorite recipes
create menus
tag recipes you want to do later
group recipes together for different seasons or ingredients or occasions
and the list goes on. You'll have endless fun and how you use it will depend very much on your personality type!